HMS services are designed around the unique needs of each practice. We structure flexible programs to meet your short and long-term objectives. As your management partner, HMS assumes responsibility for all facets of the accounts receivable process and information management. Our fee is calculated as a percentage of collections and is all-inclusive to cover costs for collections (salaries, statements, etc.). Additionally, this fee includes consulting to assist you with contract evaluations. For example, when you are approached by a payor about a new managed care agreement, HMS can evaluate it and advise on its feasibility prior to acceptance.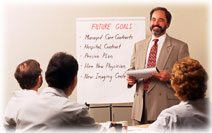 We maintain a staff of Reimbursement Analysts who will work with you to evaluate fee schedules and will audit reimbursement and collection ratios. Our ultimate goal is to maximize collections while better positioning your practice for the future.
HMS provides the following services to assure a comprehensive and professional accounts receivable management service:
Initial Services:
Comprehensive study with physicians to determine services and procedures necessary for a smoothly functioning practice.
Development of reporting mechanisms to provide all-inclusive information about the practice's accounts receivable activities.
Daily Operations
Daily data preparation, coding, and billing.
Primary, secondary, and tertiary insurance filed for all patients.
Reduction of turnaround time of payment on claims by processing daily, using the fastest means of claims submission available in your area. Electronic claims submission to Medicare, Blue Shield, Medicaid, and commercial claims. Electronic remittance posting from Medicare, and other carriers, where available.
Maintenance of consistent cash flow via prompt, same-day statement processing. Statements are also issued on demand to accommodate special patient requests.
Immediate payment deposits to your account on a daily basis to assure a more consistent flow of cash, and to allow practice to earn maximum interest on collections
Delinquent Account Follow-up
Continuous monitoring of accounts as they age, to establish a collections effort custom-designed to meet the needs of the practice.
Delinquent account follow-up, including use of delinquent letters, in-house collection efforts, and finally, outside collection agencies.
Professional Services
Monthly summary reports presented to physicians to evaluate practice management and to provide incisive data necessary for informed, knowledgeable decisions.
Monitor changing reimbursement legislation on a continuous basis, and implementation of changes that directly impact your fees.
Data Verification and Procedural Controls
Research accuracy of patient data, resulting in improved overall collections, as well as a positive professional practice image to patients, referring physicians, third-party providers, and hospitals.
Review existing patient registration system and formats, to improve the timeliness and quality of information received from the hospital.
Perform immediate and periodic charge audits, examining all aspects of charge flow, with emphasis on charge capture, location of lost revenue, cash flow discrepancies, and causes of extensive days on the books.
Coding assessment and review of current fee schedule to maximize reimbursement.
Negotiate with third party carriers and hospital, including reviewing insurance profiles, filing procedures, interpretation of HMO and other capitated plan contracts, and serving as liaison between hospital and billing office.